About NOB Brick & Fireplaces
"No Other Brick" like The Brick Yard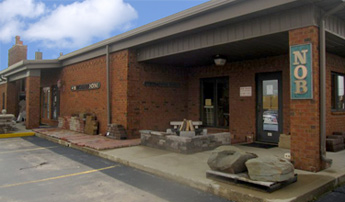 Since 1956, NOB Brick and Fireplaces has been the leading supplier of bricks in Fort Wayne and Northeast Indiana. In the beginning, their huge showroom displayed over a hundred varieties of brick. Today they also offer sales and service of fireplaces and landscape materials for residential as well as commercial customers. Their 1800 square foot showroom dedicated to showing the latest advances in fireplace technology, offers only the best in wood-burning and gas fireplaces as well as accessories.
Our History
Otto Nord, Arthur Oetting, and Norm Buuck, who were in the construction industry, started NOB Brick Company in 1956. They saw the need to meet the demand for special brick made of concrete called "Slump Brick". From that beginning, the company grew into selling clay brick, natural stone, and fireplaces. The initials of their last names were used as an acronym for the company – NOB Brick. Since ownership has passed to Bob Benhower, the acronym has become known as "No Other Brick". NOB's service and knowledge of the brick business has become recognized as unparalleled in Northeast Indiana.
Visit Our Showroom
NOB Brick and Fireplaces offers a vast selection of in-stock brick in various colors, sizes and shapes. NOB inventories several thousand bricks of each of the hundred or so stock colors. This amounts to several million brick being in inventory at any given time.
Stop by our showroom located at 4936 Nob Road in Fort Wayne to see our large selection of brick, Stone, pavers, indoor and outdoor fireplaces, landscape material and more!